There is no question that the COVID-19 pandemic has dramatically changed our working lives. Not only has it impacted the way in which many of us work, it has additionally changed our outlook on the office and what we expect from it on a day-to-day basis. Now, employees expect the office to be a social hub to interact with their colleagues when they are not working remotely.
As a result, companies are now more driven than ever to create cultural changes to offer a space that supports and encourages collaboration, as well as focuses on employee's health and mental wellbeing.
A way in which they have looked to achieved this is through integrating recreational areas into their office design, such as activity spaces and wellness rooms. These spaces have been particularly valuable as they provide an environment for employees to socialise.
What is a recreational space?
A recreation room is a designated area in the workplaces where employees can go to relax and unwind during the day. Usually, these areas take the form of a games room or wellness space.
An office games area can include activities such as table tennis, pool, table football and if you have the luxury of space, sometimes mini golf. All of these activities have been introduced into a variety of office spaces in an attempt to help employees de-stress and enjoy being at work whilst in the office.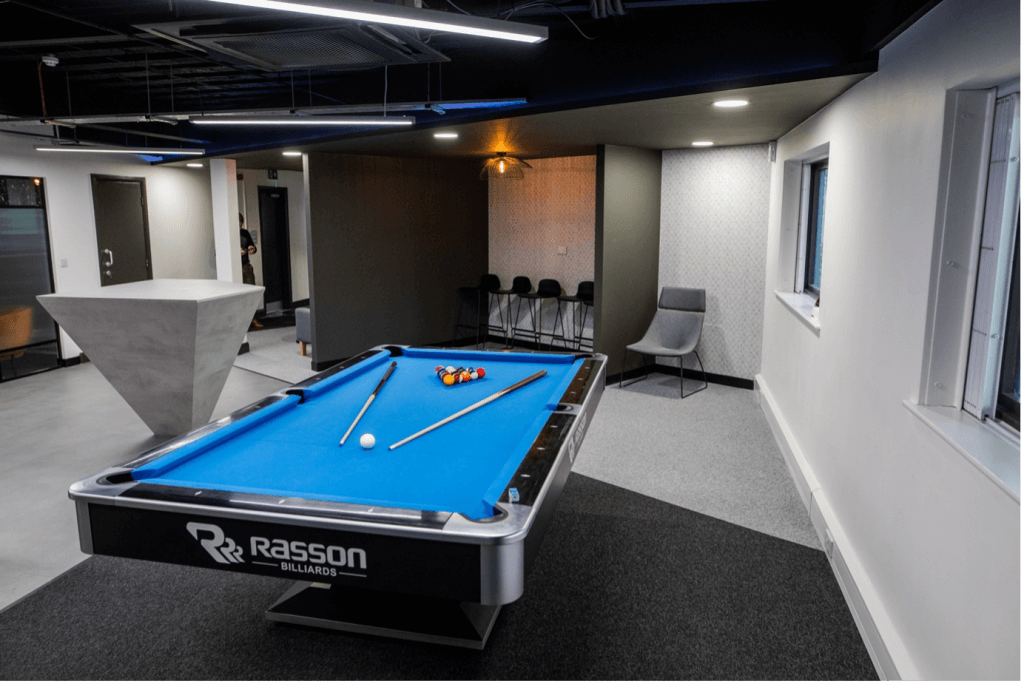 Additionally, quiet wellness spaces offer a place for staff to settle and work independently but in a less formal environment than sitting at a desk. Additionally, they also provide a space where staff can simply just relax and talk to a colleague over coffee.
What are the benefits of recreational areas in the office?
Sometimes, staff need to take themselves away from the hustle and bustle of office life and refocus their mind in whatever way they find most beneficial, whether this is with a game or two or with five minutes of peace and quiet.
In turn, these areas will allow staff to return to their desks ready to work and focused for the rest of the day.
Allowing your employees to escape to a gaming or wellness area can help to raise your employee's energy levels and increase productivity when they begin to work again. In fact, research has shown that staff are at their most productive when they achieve a good balance between working and relaxing.
Gaming rooms vs wellness spaces: which is right for you?
So, which type of recreational area is most suitable for your office? This will be completely dependent on the individual needs of your business as well as the needs of your staff, as they'll be the people getting the most use out of these areas.
Whilst a games area will provide your workforce with a level of excitement, entertainment, and a bit of healthy competition, a wellness space will allow your staff a calm and tranquil area to re-focus themselves.
How to design a recreation room for an office?
Colour
When considering how to implement a recreational room into your office design, colour will likely be the first design feature that you consider. For a games area, consider brighter colours that will revitalise your employees and add to the fun, energetic atmosphere in the room.
On the other hand, if your office is better suited to a wellness space, neutral colours which will calm your employees will likely work better, such as pale blue and forest green.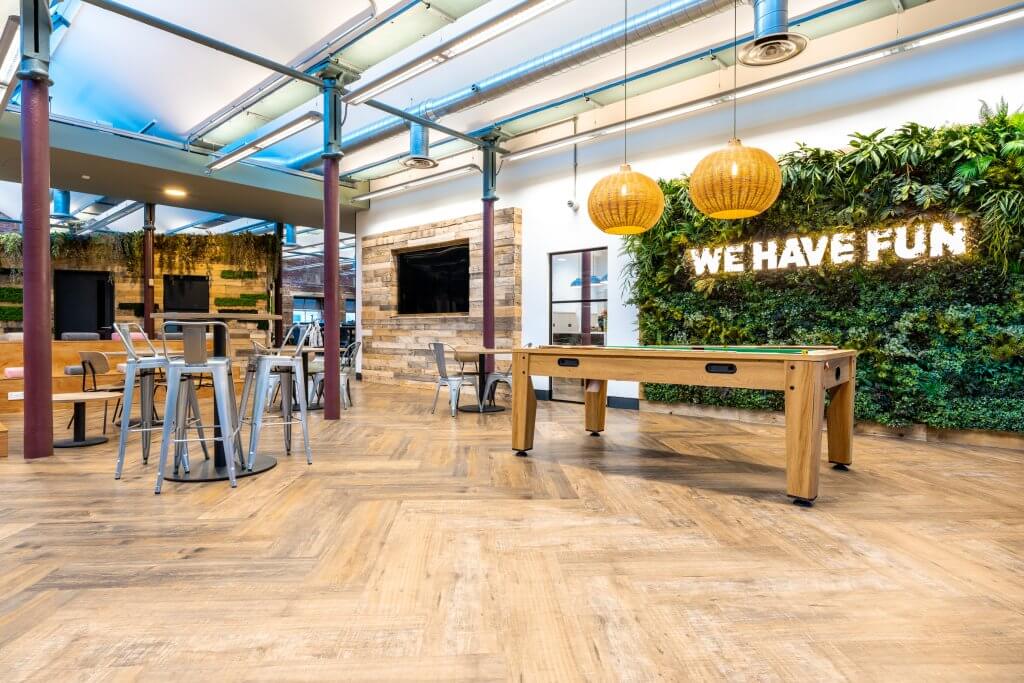 If you'd like some more information on how to decorate your office, you can read our blog post here: – https://www.buildinginteriorsgroup.co.uk/knowledge-and-news/what-colours-should-you-use-in-your-new-office-design/
Furniture
In terms of seating areas, for any recreational space you will need relaxed office furniture such as long sofas and benches with comfortable cushions, where staff members can gather for a chat. As well, coffee tables and blankets will help to add a cosy feel and create an atmosphere that is completely separate from the main office area.
Get in touch
At Building Interiors, we are no strangers to integrating recreational spaces into the office designs of our clients.
Our work with Menlo Park saw us create a fully equipped gaming area fitted with kitchen amenities, a pool table, and a football table, as well as a gym room that was available for staff to use. You can read more about this project below.
If you would like to discuss the design and build of a recreational space for your office, our team would be more than happy to chat to you to establish your needs further. You can contact us at 0113 388 6522 or email us at contact@buildinginteriorsgroup.co.uk, and our team will be happy to help!