Office consultancy, also known as workplace strategy, is a service that helps businesses to optimise their office space in order to improve productivity, reduce costs and create a better work environment for staff.
Though it can sound simple, the process of workplace strategy involves a range of different activities. These activities are designed to help a workplace consultant identify strategic improvements in your office design which will allow the space to meet the unique needs of your business.
To ensure you choose the perfect design consultant to implement your workplace strategy, it helps to get a good understanding of what the workplace strategy process actually involves, so you know what to exactly what to expect.
In this blog, we'll explore what our workplace strategy involves and what benefits it can provide for your organisation.
Step 1 – Defining your workplace strategy
The define stage of our workplace strategy involves getting a clear idea of your business, your budgets, and what you want out of your new office design.
This initial assessment will help your office consultant to identify areas where improvements can be made, in your office design. Further, through gaining an understanding of your future business goals, an office consultant can design a workplace strategy that is not only appropriate for the present, but for the future too.
These proposed changes will then be conceptualised by our design team for you to look at. This is standard for all of our clients so we can showcase what your new office will look like and explain the benefits of each office design change both in terms of physical space and workplace culture.
At this stage, we will also discuss other factors that can impact your workplace strategy such as your budget requirements so we can gain a better understanding of what new design features are feasible to include. This will allow us to refine your new office design even further.
Once these changes align with your goals and budget, we can begin integrating our workplace strategy into your office space.
Step 2 – Designing your workplace strategy
The design stage of our workplace strategy process is where our team start to get creative and can start to bring your new office design to life.
It is important for us to carry out these site visits at this stage to ensure we align our design suggestions with the correct costs so we can create a carefully curated budget that is both cost-effective and will allow for a practical execution of your project.
Week 7 – Week 8: Approve
Now that we have refined your office design and your costs, our team can create a programme of work, outlining each step of our design recommendations, as well as what our timeline of work will look like for a stress-free project delivery.
Throughout the design and implementation process, our workplace consultants will work closely with you to ensure that our workplace strategy is practical and feasible for your business. We will also provide ongoing support to help your organisation implement the changes and monitor their effectiveness over time.
How long does the workplace strategy process take?
At Building Interiors we work with a range of clients from different industries and therefore we understand that every business is different and will have individual needs.
Therefore, the timeframe in which we can create and implement a workplace strategy can differ between projects. Whatever your deadline, our team of experts will work to suit the timing of your individual project.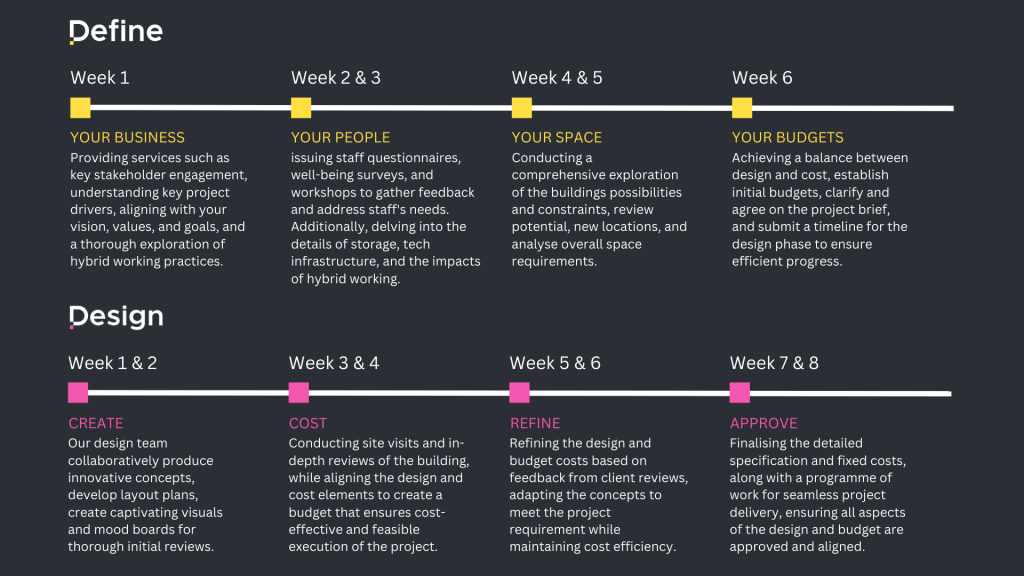 Contact our team
So, what are the benefits of a workplace strategy? Through optimising your office space, you can improve productivity, efficiency, and create a better work environment for your employees. This can result in increased job satisfaction, reduced employee turnover, and improve customer satisfaction, which can all contribute to the overall success of your business.
When you work with our office consultants we will identify areas for improvement, and implement bespoke solutions so your business can benefit from success and growth.
If you'd like to talk to a member of our team about our workplace strategy services, as well as any other of our design and build services, you can contact a member of our team by emailing contact@buildinginteriorsgroup.co.uk or calling 0113 388 6522.