We have been busy sharing our expertise again. This time its with business magazine Ulster Business.
Our MD Ian Brough, contributes on the topic 'Why office interior design is key to success".
Extracts from the article:
Today's employees, as well as some forward-thinking employers, are realising impact office surrounding have on the workforce.
From mood-enhancing light to energy derived from natural daylight, breakout spaces and colour pops to privacy pods, the traditional office format is changing, and just to accommodate the influx of self-aware Millennials joining the team but to boost the morale of existing generation sin the workforce.
Your office interiors should. According to the pros, be an extension of your brand. And beige and boring isn't cutting it as a deal-clincher nor a recruitment tool.
And although an interiors overhaul may, in times of austerity, seem like a luxury, the reality is it's an investment. And Building Interiors Managing Director Ian Brough whose job it is to work his magic on the fifty shades of grey dominating office spaces in the UK, agrees.
His work starts at the doorway. "Millennials are the future of your company, which is why it is important you attract and retain the best at your business."
"Many of our clients, when designing their office space start with altering their entrance to make more of an impact and lasting impression on visitors, staff and prospective staff. How your workplace looks, feels and operates does have a huge impact on your employees".
My Brough says the modern workforce is averse to restrictions, preferring a more flexible working model and he advises employers to change their environments to "amplify a collaboration between employees".
"Recreation areas are also becoming increasingly important, fill these 'break out' spaces with soft furnishings, sofas and beanbags to help employees take a few minutes out of their day to switch off physically and mentally. Stimulate the senses of your employees with colour and ensure there is plenty of natural light."
"By making a few simple changes to your office environment, you will see an improvement in the workforce satisfaction, as well as making employees feel valued."
To read the article, follow the link Ulster Business Magazine (page 60/61/62)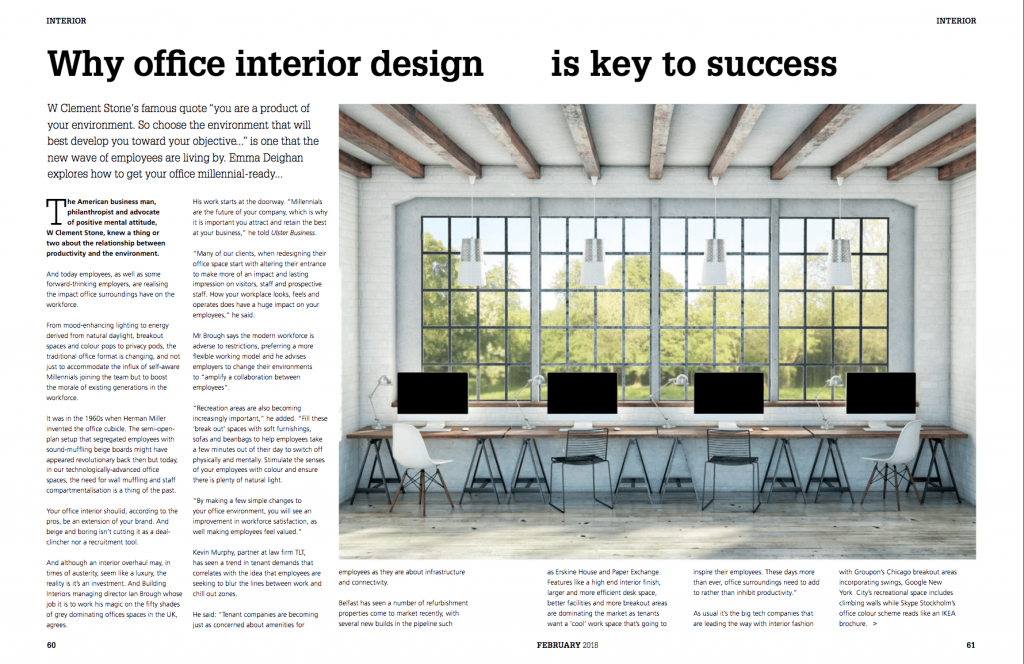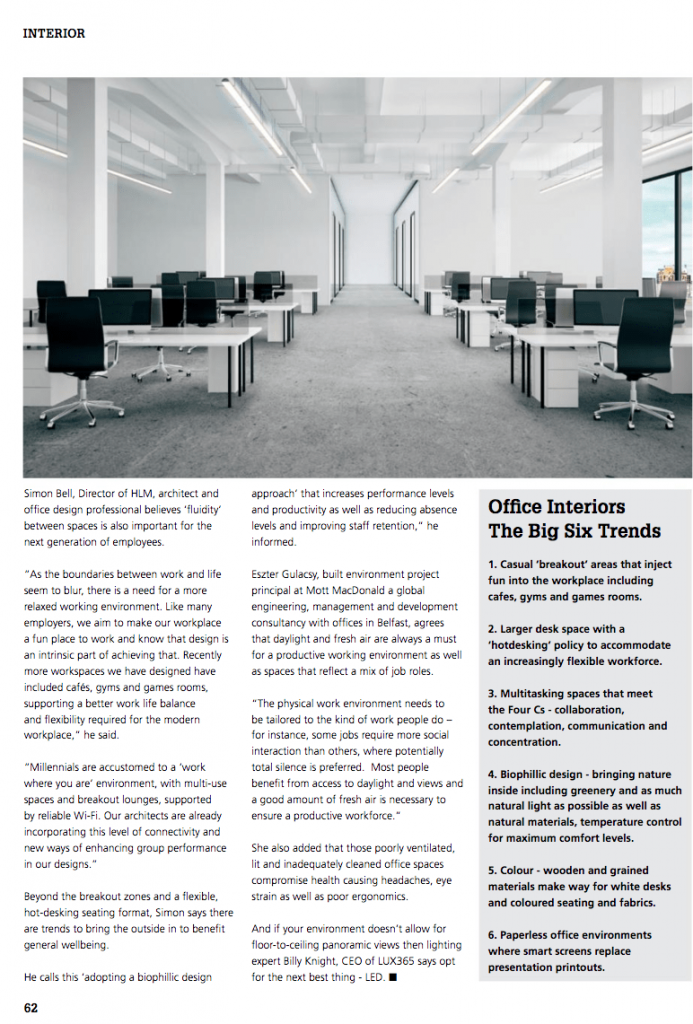 Find out more about office design and office fit out by clicking on the links, alternatively get in contact with the team today.