We are proud to announce we have been featured in this month's addition of Global Banking and Business Magazine.
We lent our expertise and explained the best design practices organisations can use to ensure their office environment works for millennials.
Office optimisation and ensuring your space works for you and your employees is becoming ever more important to businesses.
To read the article, follow the link. Global Banking and Finance Issue 12. (page 60/61)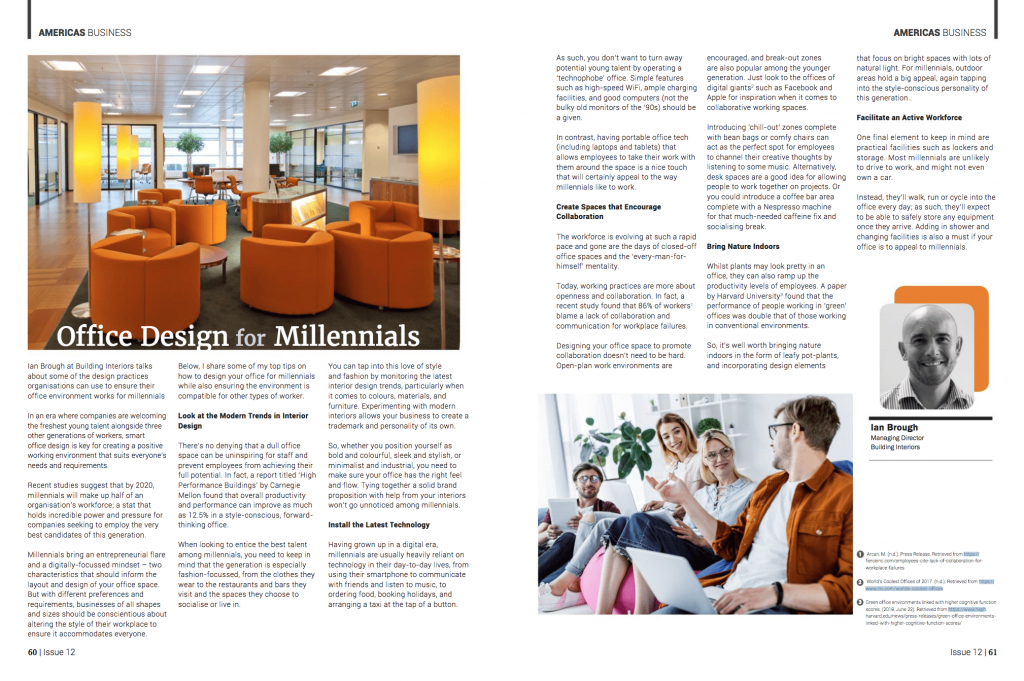 Full article:
Office Design for Millennials
Ian Brough at Building Interiors talks about some of the design practices organisations can use to ensure their office environment works for millennials 
In an era where companies are welcoming the freshest young talent alongside three other generations of workers, smart office design is key for creating a positive working environment that suits everyone's needs and requirements.
Recent studies suggest that by 2020, millennials will make up half of an organisation's workforce; a stat that holds incredible power and pressure for companies seeking to employ the very best candidates of this generation.
Millennials bring an entrepreneurial flare and a digitally-focussed mindset – two characteristics that should inform the layout and design of your office space. But with different preferences and requirements, businesses of all shapes and sizes should be conscientious about altering the style of their workplace to ensure it accommodates everyone.
Below, I share some of my top tips on how to design your office for millennials while also ensuring the environment is compatible for other types of worker.
Look at the Modern Trends in Interior Design
There's no denying that a dull office space can be uninspiring for staff and prevent employees from achieving their full potential. In fact, a report titled 'High Performance Buildings' by Carnegie Mellon found that overall productivity and performance can improve as much as 12.5% in a style-conscious, forward-thinking office.
When looking to entice the best talent among millennials, you need to keep in mind that the generation is especially fashion-focussed, from the clothes they wear to the restaurants and bars they visit and the spaces they choose to socialise or live in.
You can tap into this love of style and fashion by monitoring the latest interior design trends, particularly when it comes to colours, materials, and furniture. Experimenting with modern interiors allows your business to create a trademark and personality of its own.
So, whether you position yourself as bold and colourful, sleek and stylish, or minimalist and industrial, you need to make sure your office has the right feel and flow. Tying together a solid brand proposition with help from your interiors won't go unnoticed among millennials.
Install the Latest Technology
Having grown up in a digital era, millennials are usually heavily reliant on technology in their day-to-day lives, from using their smartphone to communicate with friends and listen to music, to ordering food, booking holidays, and arranging a taxi at the tap of a button.
As such, you don't want to turn away potential young talent by operating a 'technophobe' office. Simple features such as high-speed WiFi, ample charging facilities, and good computers (not the bulky old monitors of the '90s) should be a given.
In contrast, having portable office tech (including laptops and tablets) that allows employees to take their work with them around the space is a nice touch that will certainly appeal to the way millennials like to work.
Create Spaces that Encourage Collaboration
The workforce is evolving at such a rapid pace and gone are the days of closed-off office spaces and the 'every-man-for-himself' mentality.
Today, working practices are more about openness and collaboration. In fact, a recent study found that 86% of workers blame a lack of collaboration and communication for workplace failures.
Designing your office space to promote collaboration doesn't need to be hard. Open-plan work environments are encouraged, and break-out zones are also popular among the younger generation. Just look to the offices of digital giants such as Facebook and Apple for inspiration when it comes to collaborative working spaces.
Introducing 'chill-out' zones complete with bean bags or comfy chairs can act as the perfect spot for employees to channel their creative thoughts by listening to some music. Alternatively, desk spaces are a good idea for allowing people to work together on projects. Or you could introduce a coffee bar area complete with a Nespresso machine for that much-needed caffeine fix and socialising break.
Bring Nature Indoors
Whilst plants may look pretty in an office, they can also ramp up the productivity levels of employees. A paper by Harvard University found that the performance of people working in 'green' offices was double that of those working in conventional environments.
So, it's well worth bringing nature indoors in the form of leafy pot-plants, and incorporating design elements that focus on bright spaces with lots of natural light. For millennials, outdoor areas hold a big appeal, again tapping into the style-conscious personality of this generation..
Facilitate an Active Workforce
One final element to keep in mind are practical facilities such as lockers and storage. Most millennials are unlikely to drive to work, and might not even own a car.
Instead, they'll walk, run or cycle into the office every day; as such, they'll expect to be able to safely store any equipment once they arrive. Adding in shower and changing facilities is also a must if your office is to appeal to millennials.
To find out how we can help you fully optimise your office space for your team, get in touch today.